Pardon the Name Dropping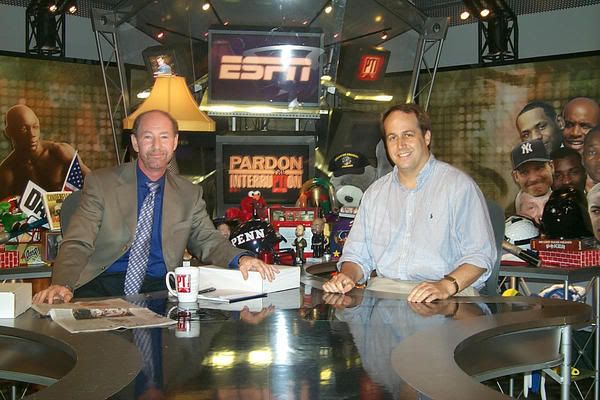 No, it's not the name of a new sort of game show. Nor is it a habit of mine, but I wanted to tell the story of my visit to the set of Pardon the Interruption (herein and forever after referred to as PTI) in Washington, DC.
A bit about the show… It's a sports talk show, hosted by two men, Tony Kornheiser and Michael Wilbon. I know I've probably just lost all of the female readers in my audience, but I'll press on anyways! This is my longest posting so far, so be warned…
N.B. - I've lost a good deal of weight since that picture was taken!

The show evolved out of their daily lively arguments and discussions while working as sports reporters for the Washington Post, where they've worked for over 20 years now I believe. The TV show's been around for seven years or so, and while Wilbon still regularly writes for the Post, Tony has the rare column anymore, especially since he's now wearing another hat: color commentator for Monday Night Football.
The show is taped at Atlantic Video Studios in Washington, DC, right up the street from the MCI Center. I forget exactly how, but I got the idea that it was possible to visit the set of PTI and meet Tony, Mike and the crew. I had sent a few emails to the show from time to time to comment on something I'd seen on the show, and soon became acquainted with their producer, Bonnie. She graciously offered to let me come up and see the show get taped one weekday, and afterwards I'd be able to meet Tony and Mike. How cool is that! There was no way I could refuse, so I made plans to see the show during a week I had already taken off. I love going to DC anyways, as there is so much to see and do there, like visiting the museums on the Mall.

The day of the show was pretty hot (DC is a swampy, humid area and it was late May) and I had brought with me some gifts for Tony and Mike as well as Bonnie, as thanks for arranging the whole experience for me. I was still living in Smithfield, and I thought they might appreciate something demonstrative of my part of the country. By the way, Bonnie was clear about not needing to bring any gifts at all as it wasn't necessary, but I just couldn't go up there empty-handed. These people work hard and have tons of fans and were making arrangements to have a total stranger hang around their workplace for a few hours, so I felt compelled. The original invitation to see the show was for me and all of the friends that I could bring, but unfortunately I could never coordinate with my dad or with Todd, the only two people I knew who would be interested in PTI. So it became a solo journey but I didn't mind.
I decided that Smithfield peanuts would be a good gift, as Bonnie (when pressed) mentioned that 'the boys' liked things like that as well as chocolate kisses. Since I'm not from Hershey, Pennsylvania, I went with the nuts. On the way out of Smithfield, I stopped at a little house on the side of Route 10 that doubled as a store selling peanuts, right from the owner's own farm. I didn't think you could get any more local than this, and she put together a couple of nice assortments of peanuts, cashews and the like. For Bonnie, I bought a Starbucks gift card, figuring correctly that she was a coffee drinker like me.
So there I was, strolling along the streets of DC, in high heat and humidity, with two large boxes of assorted nuts under one arm and my camera around the other. I had on a long-sleeved shirt and slacks, and I made the unfortunate mistake of getting off the Metro one stop further away from the studio than I should have. Luckily for me the building where the show tapes was air-conditioned, although they had just gotten it fixed for apparently over the weekend it had broken down. I remember hearing Tony talking about it with the staff before the taping began, about how the heat inside the building on the weekend had him 'schvitzing like an Airedale', one of his favorite phrases.
There were two security guards at the outside entrance to the building, and I told them the producer's name and that I was there to see PTI get taped. They radioed inside and after a moment they nodded and let me through. The girl at the elevators had a guest list, which I was on, and I couldn't help but feel a little swell of pride as I was now on the "VIP" list for PTI! Well, for one day at least.
She pressed for the elevator and it took me to the studios. Bonnie came out and met me, was thrilled with my gift of a Starbucks card, and showed me around the studio. I got to see the offices, where all of the heads on sticks from the past reside (aside from the lucky few that adorn the set behind Tony and Mike). There were all of the show's holiday props in here as well, including the pumpkins carved like the two of them.
Sadly, Wilbon was on the road for this particular show, as he was down in Miami for an NBA playoff game. This had a good side, though, as that meant that that day's guest for "Five Good Minutes" (the interview segment) was none other than Charles Barkley. He's a previous NBA All-Star who now announces basketball games for TNT. I read his latest book, "Who's Afraid of a Large Black Man?", which was edited by Mike Wilbon. Sir Charles is a regular on PTI, and with the three of them being bald, Tony always introduces interviews involving Charles (or any bald person) as such: "Let the meeting of the Bald Brotherhood commence!"
So while Mike was in Miami, Tony was up in the studio (he very rarely if ever goes on the road as he does not like to fly – to wit, he takes a bus to most MNF games a la John Madden). Before the interview began, Charles, Mike and Tony were chatting and it was mostly about golf and where was good to play in the country. They're all scratch golfers, or at least that's what they'd have you believe if you listened to them talk about their golf games.
A couple of times Tony Reali ("Stat Boy", PTI's fact-checker and occasional game-runner) came through the producer's booth where I was sitting to watch the show, but he was too busy for me to talk to him. I was sitting on this really comfy couch they had set aside for guests. The broadcast time of the show is 30 minutes and it took just over an hour to tape.
Once the show was over, Bonnie called up to the studio to tell Tony that they had a guest that day and I wanted to visit the set and have my picture taken with him. Tony was graceful and seemed glad to hear that there was a guest listener in the studio. I felt relieved because I understand how defensive some celebrities can become about meeting the public, and above all else I never wanted to feel like an intrusion.
Bonnie lead me upstairs to the set – which is where I would have been for the whole taping, incidentally, except for the fact that Wilbon was gone. I could've stayed in the set with Tony, Bonnie said, but unless I was in the producer's booth I wouldn't be able to hear anything Wilbon said.
Tony stood up and shook my hand and I presented him with the peanuts. He asked a little about Smithfield and where it was, and offered me Wilbon's chair. My head was in the clouds at this point – I was on the set of PTI! In Wilbon's seat! Tony had a couple of different newspapers before him on the table. We sat and talked about the show for a bit, and then I gave my camera to Bonnie and she took a few photos of us.
The meet-and-greet and photograph session done, I bid my farewells to Tony and thanked him again for letting me come on the set and meet him. He and Bonnie both told me to come back again when Mike was in town, so I could not only meet him but actually be on the set for the taping. There was nothing but sincerity and politeness in the way they talked to me, and this only deepened my admiration for Mr. Tony as well as the whole PTI experience.
After that, Bonnie lead me back outside. She told me I was their number one fan now because of the great gifts, and I laughed and thanked her. I told her I was only too glad to bring the gifts and said I'd certainly be back at some point, with a friend or two hopefully. She told me to bring a whole crew; they'd make it a party for us! I didn't doubt her, but much to my chagrin I was never able to organize another trek to the PTI set. I did email Bonnie a couple of different times when I honestly thought I was going to be in the DC area again, but one time I got sick and the other time something else came up, so I had to cancel. I really hope that invitation to come back is still extended to me, as one day when I'm back in the States (and hopefully PTI is still going) I sure would like to get up there and see them all again.
Until that day comes, if ever, I'll leave you with this one closing line, cribbed from Mr. Tony himself (who cribbed it from the Rolling Stones):
"If you're out on your bike tonight, do wear white."